Mannheim, 3 June 2019. In cooperation with the City of Mannheim and the ZEW – Leibniz Centre for European Economic Research, the IUC project organised the first European-Chinese Business & Regional Innovation Forum held in Mannheim. The event– which was attended by more than 120 representatives from politics, business and research – provided valuable insights into the role of cities and regions in supporting European-Chinese relations as well as trends, challenges and opportunities for bilateral cooperation. The forum was co-funded by the IUC project within the IUC competitive fund.
An IUC video of the event is available here.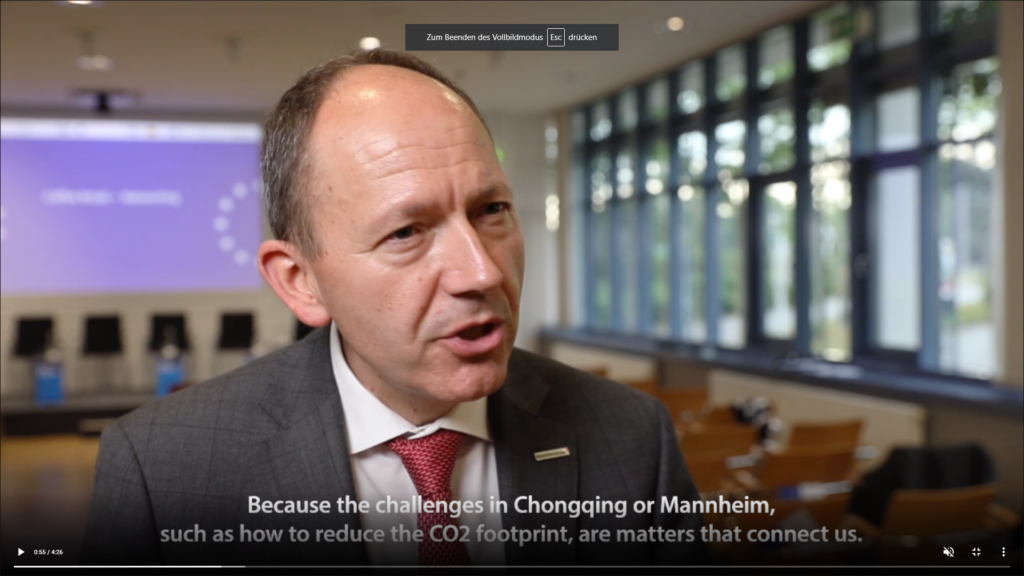 In his statement, the Mayor of Mannheim – Dr Peter Kurz – emphasized that the drivers of urban development must be both innovation and sustainability.  The question of how we organize our cities is crucial for sustainability and the IUC provides a unique platform for mutual exchange – he said. Deputy Mayor Christian Specht complemented that Mannheim is located along the most important and most profitable European transport corridor (Rotterdam-Genoa). The Rhine-Neckar metropolitan region has an export quota of more than 60 percent, with China being an important destination. China plays a special role as the most important trade partner of Germany and the region – he said. Mannheim's Department Head for International Affairs and Europe, David Linse, provided clear examples of the city cooperation with China, especially in the logistics (cargo railway) and vocational training areas (smart city / smart manufacturing). 
EU Commission's (REGIO) Senior Advisor for International Affairs – Dr Ronald Hall – introduced the IUC programme which involves currently nearly 150 cities across the world. He showcased results of the EU-China city-to-city cooperation in other areas like smart city and start-up incubation. Mr Hall focused his presentation in the EU's role in promoting innovation through "Smart Specialisation Strategies", bringing together the regional and city level. More than 180 European regions have developed these strategies that offer an important reference for the city-to-city and region-to-region cooperation with China.
The forum consisted of two panel discussions dealing with future trends in EU-China economic cooperation as well as cooperation through innovation respectively. The panels included high-level representatives from local administrations, business and research. It was moderated by Frank Sieren, a leading European China expert and economic bestseller author living in China.
Press coverage
Regional video coverage by Rhein Necker Fernsehen
Press release by Mannheim City Council
Impressions