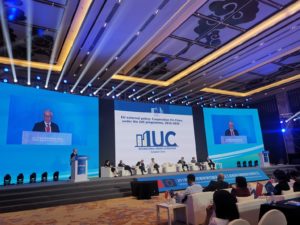 The third mission of EU cities to China will take place from 20-26 October 2019 and will focus on circular economy. Delegates from Manchester (UK) will visit Nanjing, the capital of China's eastern Jiangsu Province, Ningbo, a sub-provincial city in Zhejiang Province, and Haikou, the capital of China's island Province Hainan. The general goal is to consolidate relations with stakeholders in Nanjing and Haikou – including the discussion of pilot projects – as well as to open opportunities in the field of circular economy and other relevant cooperation fields for the Chinese and EU cities.
In Nanjing, the delegates will participate in the China International Circular Economy Exhibition & China Circular Economy Development Forum, an event organized by the China Association of Circular Economy and China World Trade Center Co., Ltd. The exhibition will focus on multiple fields, including industrial circular economy, resource recycling and remanufacturing, utilization of urban solid waste resources, and shared economy. At the Forum, 200 exhibitors from 10 countries and regions will showcase their innovation in 13 project launch events, a technology matching conference and other activities. The Forum has been created to strengthen cooperation and exchanges at home and abroad and to promote technological innovation in the circular economy.
Nanjing is the second largest city in eastern China. The Nanjing Economic and Technological Development Zone, established by the national government, has facilities devoted to areas such as information technology, biomedical engineering, and the manufacturing of light-industrial machinery and high-purity and precision chemicals.
Ningbo has the largest petrochemical industry base and new materials industry base of China. It is one of the country's four major home appliances production areas and one of the three major clothing industry bases. The city has a number of cooperation projects with EU countries, such as the EU-China (Ningbo) Green and Smart Cities Summit (held in 2018), the Slovakia-Ningbo Economic and Trade Cooperation Fair (held in 2019), and the annual China-Central and Eastern European Countries (or "16+1") Investment and Trade Fair.
Haikou is known for its innovative green policies and developments, such as large green areas, low-carbon emission and ban of plastics. Commemorating the 30th anniversary of the establishment of the special economic zone in Hainan Province in April 2018, China's President Xi Jinping announced that the central government would support the establishment of free trade pilot zones and the construction of free trade ports around Haikou.