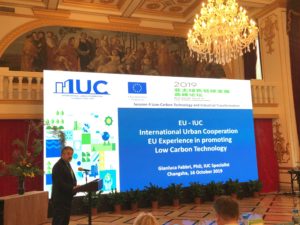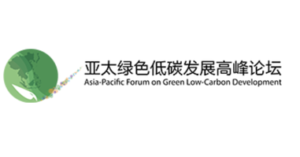 IUC-Asia participated at the Asia-Pacific Forum on Green Low-Carbon Development 2019, held in Changsha, Hunan Province, PR China, from 16-18 October 2019 (http://en.aplctsummit.com/). The Forum brought together policymakers and technology developers to showcase global, regional and country-level success stories. This year's theme was "Low-Carbon Solutions for our Green Future" and encouraged cooperation and innovation on commercially scalable low-carbon solutions for green development in urban and rural areas. The Forum was hosted by the Department of Ecology and Environment (DEE), the Asian Development Bank (ADB), and co-organized by the Hunan Innovative Low-Carbon Center and Broad Group. Former United Nations Secretary-General, Ban Ki-moon, and XIE Zhenhua, China's Special Representative on Climate Change, were among the keynote speakers.
Since 2016, the ADB and the Government of Hunan Province have successfully co-hosted three previous Forums. Over 500 delegates from 37 countries participated in the 2018 event, engaging in North-South and South-South dialogue and cooperation. The Asia-Pacific Forum on Green Low-Carbon Development was initiated in 2015 in an agreement between the ADB and the Government of Hunan Province to promote climate technology development and deployment.
IUC Parallel Session 4: Low-carbon Technology and Industrial Transformation
On the afternoon of 16th October, the IUC project co-organized the sub-forum on Low-Carbon Technology and Industrial Transformation together with NCSC. IUC expert Prof. Dr. Gianluca Fabbri, together with Craig Banks and Amanda Reid representing the Manchester Metropolitan University, participated in this sub-forum and delivered keynote speeches from the EU perspective.
In the opening session, Gianluca Fabbri introduced the background of the IUC Programme and the EU-China low-carbon city cooperation. After that, Craig Banks and Amanda Reid shared Greater Manchester's practices and experiences in developing low-carbon technologies and industrial transformation. They introduced the local industrial strategy and their ambition in low-carbon development which was mainly building Greater Manchester into a region of "PRINTCITY", described as the fourth industrial revolution.
In the panel discussion, Chinese and EU experts exchanged freely on the main topic and relevant matters. Gianluca Fabbri moderated this session and raised some questions at first about the economic impetus that low-carbon technologies can provide and how to encourage the business sector to apply low-carbon technologies. Both EU and Chinese experts contributed actively to this discussion round. Professor WANG Can mentioned the positive effects that low-carbon development had such as expanding the market and promoting employment. In terms of the industrial transformation, "Slow is fast" was quoted by SHENG Lei, arguing that during the long-term process of industrial transformation, issues such as ethics and legislation should also be considered apart from the technology itself.
This sub-forum was attended by about 60 participants from different Chinese cities, institutional representatives, academic experts and businesses.
Pictures
Programme
Annex 8 Low-carbon Technology and Industrial Transformation Forum Changsha