What is Urban-Rural Linkage?
"UN Habitat defines urban-rural linkages as the as non-linear, diverse urban-rural interactions and linkages across space within an urban-rural continuum, including flows of people, goods, capital and information but also between sectors and activities such as agriculture, services and manufacturing. In general, they can be defined as a complex web of connections between rural and urban dimensions. "
How does China link its urban-rural development? 
1.Guangdong
Guangdong is a developed and highly urbanized province in China while regional differences still exist in this province. The northern, eastern and western parts of Guangdong are relatively undeveloped compared to the Pearl River Delta region.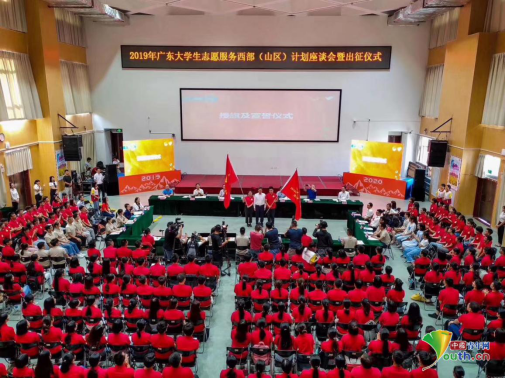 Experts and volunteers from the Pearl River Delta regipon ready to help with poverty allevaition cr: youth. cn
Therefore, Guangdong adopted a "targeted poverty alleviation" and "pairing support" strategy to reduce development imbalance. The more developed Pearl River Delta region has assisted the eastern, western and northern regions in past years through efforts like introducing enterprises to those areas, supporting transfer of employment, establishing development fund, etc. The six cities of the Pearl River Delta including Shantou (an IUC project city), have sent professional teams to poverty-stricken counties and villages in the area, providing practical knowledge, skills, technological and financial support, etc.
At present, Guangdong is expected to lift all people out of poverty at a provincial level by 2020  and further urbanize itself in a more balanced way, enhancing its urban-rural linkage and reducing gap.
Source: China Center for Urban Development (CCUD)
2. Chongqing
Tongnan, which locates near 30 degrees north latitude, is gifted with acidic soil and convenient irrigation conditions, and is therefore an excellent place for growing high-quality lemon. In the past, lemon was planted rather sparsely and in a small scale so it was difficult for local farmers to increase production and sell them at a good price in the market.
Tongnan has therefore developed its lemon industry through supporting large-scale and standardized planting, research and development of deep-processed products, promotion, brand cultivation, and innovation. Specifically, it has supported leading local enterprises, provided training programs for farmers, organized international lemon festivals that draw global attention, developed lemon tourism, etc.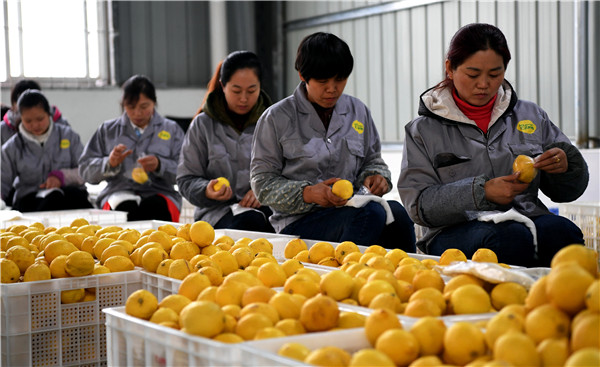 Workers pack fresh lemons into freezer bags at a factory of the Huida Group in Tongnan, Chongqing. (Chinadaily.com.cn)
Photos By Wang Quanchao / Xinhua. 
Today, Tongnan has become one of the top 3 lemon producers in the world, covered by mainstream media in China as a leading brand of Chinese lemon. The annual output value of Tongnan lemon has reached 3 billion yuan, helping more than 50,000 local farmers to get rid of poverty and increase their incomes. At the same time, Tongnan lemon and its processed products have been exported to more than 30 countries such as Germany and Russia, through the China Railway Express under the Belt and Road Initiative. (2017)
Source: State Council Information Office
3. Tianjin
Located in the northern mountainous area of Jizhou District, Tianjin, Xiaying town includes 35 villages with a total of 5,674 households and 20,575 permanent residents (2017). By the end of 2004, the town's GDP was 198 million yuan, and the net annual income of farmers was 5,356 yuan per person and it ranked only 10th in terms of economic strength in the Ji county (now Jizhou District).
To develop and urbanize itself in a more sustainable way, Xiaying town has adopted the strategy of developing characteristic town in the last decade. Located close to the training center of General Administration of Sport of China, the town has linked it urban and rural development through developing tourism industry focusing on mountain sports and leisure tourism. It has invested in building training and sports centers, improving health care services and facilities, and developing featured tourist programs and agritainment, and renovate scenic spots, etc.
By the end of 2018, households for agritainment in Xiaying reached 164, providing 3,730 beds for tourists in total. Xiaying town received 447,00 tourists with a total tourism income of 71.5 million yuan in 2018. It has been recognized as one of the national characteristic model towns by the National Development and Reform Commission (NDRC) and Ministry of Housing and Urban-Rural Development in China.
Source: China Economic and Trade Herald Journal of NDRC