IUC Global Event in Brussels
The IUC programme held its 1st city-to-city global event. For this purpose, the IUC Asia project mobilised the participation of over 50 delegates from China, the Republic of Korea, Indonesia and Malaysia.
The event was opened by Hilde Hardeman, Director of the European Commission's Service for Foreign Policy Instruments (FPI) and Lotte Knudsen, Managing Director for Global Issues at the European External Action Service (EEAS).
Mr David Linse, Director of International Cooperation at the City of Mannheim (Germany) introduced the work programme with Chongqing in China, which grounds on reciprocity and win-win logic.  The Local Action Plan foresees inter alia joint consultation and transfer of knowledge on smart production and smart city development, the joint establishment of an innovation platform as well as the implementation of conferences on economic issues. Moreover, Mannheim and Chongqing aim expanding transport (railway) infrastructure as well as establishing permanent representation offices.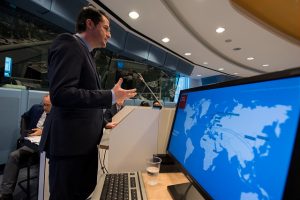 The Chinese delegation was led by Mr WU Shulin, Deputy Director-General for Regional Economy. Mr Yang Yunfeng, Director General of the Economy Development Bureau of Liangjiang New Area in Chongqing (China), introduced the "1 + 1 +2 + N" cooperation approach for activities with Mannheim. This means the promotion of two key demonstration projects and a variety (N) of cooperation areas including low-carbon economic development, logistics distribution, sustainable mobility, manufacturing, bio-medicine and cultural exchanges. He announced the signature of an MoU between Chongqing and Mannheim to establish a permanent representation office in Mannheim in order to ensure cooperation beyond the IUC project's support.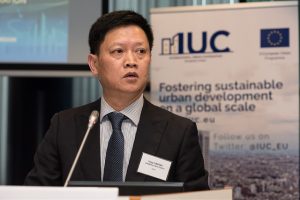 Mr Idris Bin Hj. Haron, Chief Minister of Melaka State (Malaysia), introduced the state's green climate action plan. Green-House-Gases emissions account to a large extent from industry, construction and on-road transportation. The State's Government has launched an ambitious plan to become a Green Technology State by the year 2020, including concrete actions on waste and water management, energy efficiency and green transportation. Mr Haron illustrated this by showcasing the Melaka River Basin renovation and by introducing the Hang Tuah Jaya Green City – a new township that is a living showcase of green urban planning for the future. Melaka has applied the Danish solutions for the energy efficiency program with the aims to save energy in nine state-owned building. Other efforts include increasing the energy efficiency buildings through energy performance contracts (EPC) and installing over 300.000 smart meters (Smart Grid Melaka Project). Also 2 solar farms with the total capacity of 13 Megawatt are already in use. Chief Minister Haron invited European cities and companies to become involved in the Melaka's electric buses fleet expansion plans.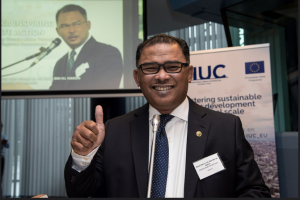 Mr. Gil Seong Choi from Gwangju from the International Climate and Environment Center in Gwangju referred to global warming and the consequences for its city: Currently, people all around Korea suffered from heat waves and tropical nights.  To this end, of Gwangju undertakes major efforts to respond to heat waves, especially through the 'Making Gwangju One Degree Celsius Cooler Project'. Mr Choi also referred to increase in building stock (24% since 2005) and in vehicles (40% during the same period, 82% of which are private vehicles). Public transport share in 2011 was 29.6%, but it fell by 28.4% in 2015. Greenhouse gas emissions increased 18% from 2005 to 2014 (94% of the emissions coming from the energy sector).  The "Making Gwangju 1 degree celsius cooler project" started 2017 with a focus on citizen participation. Three goals of the project include to 1) enhance citizens' quality of life by coping with heat waves, 2) raise the city's capacity to cope with environmental issues, and 3) suggest new types of green governance through public-private cooperation.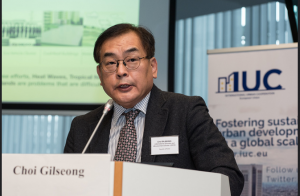 Dr Ronald Hall, Chief Advisor at the Directorate General for Regional and Urban Policy (DG REGIO) closed the meeting by encouranging cities to achieve short term results within the EU's IUC programme. For this to happen, he emphasised the importance of involving actors from public authorities, business and research community.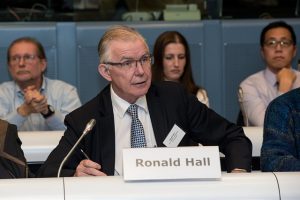 Agenda
Presentations from Asia
Impressions