14th High Level Forum (HLF) on Regional and Urban Policy Cooperation
The IUC Asia project launched 2019 cooperation between European and Chinese cities on Tuesday 09 April 2019 in Brussels. Over 70 experts from European and Chinese cities as well as high level representatives of the European Commission, the European Parliament and the Chinese National Development and Reform Commission (NDRC) met in Brussels to discuss several issues of regional innovation and sustainable urban development.

The activity started with the 14th High Level Forum (HLF) on Regional and Urban Policy Cooperation, which was a side event of the EU-China Summit. At the forum, EU Commission's DG REGIO's Principal Advisor Nicola De Michelis moderated the opening session that included interventions by Luo Wen, Vice Chairman of the NDRC, Lambert van Nistelrooij, Member of the European Parliament and Marc Lemaître, Director General of DG REGIO.

At the forum, NDRC's Vice Chairman Luo Wen stressed the importance of EU-China cooperation on regional innovation and proposed to compare China's major regional policy strategies with the EU's smart specialisation strategies. Lamber van Nistelrooij (MEP) provided examples for smart specialisation in Europe and emphasised the bridge function of regional innovation between cooperation and competition. Marc Lemaitre (DG REGIO) referred to the increasing number of pilot projects developed between European and Chinese cities within the IUC project. He also underlined the importance of involving regions in the bilateral cooperation activities.

Panel 1 of the forum dealt with regional innovation and compared strategies from the EU and China. Guo Lanfeng, Director General for Regional Department at NDRC, provided an overview of macro regional strategies in China. Speeches were delivered by Hou Gang (Deputy Mayor from Liuzhou), Dr. Ronald Hall (External Expert from DG REGIO), Camille Torrenti (European Project Officer from Metropole Nice Côte d'Azur) and Andrea Ricci from the EU Project Urban EU-China.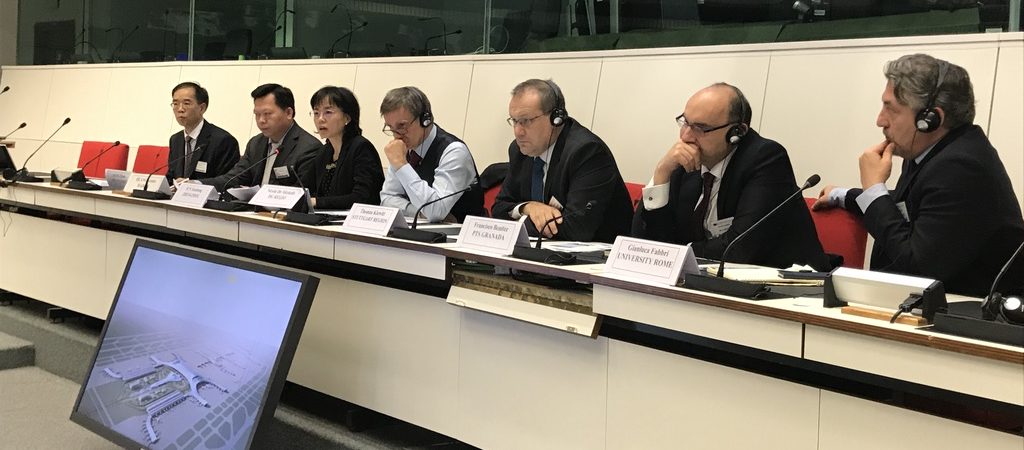 Panel 2 of the session introduced the thematic clustering approach of the IUC project, namely:
Cluster – Smart City & Digital Transition
Cluster – Circular Economy and Energy Transition
Cluster – Biotechnology and Health Care
Cluster – Urban Mobility and Connectivity
Cluster – Culture, Education and Tourism
Under the clusters approach:
European and Chinese cities receive a description of the five topics regarding the specific framework conditions in China and Europe. This includes the main stakeholders and examples of pilot projects.
This description includes a tentative calendar with the main thematic events in China and Europe at which the IUC project may organise sub-forums. The project team has elaborated a calendar of activities for each cluster (only part of the activities should receive EU funding, for many others we encourage cities to attract other national, regional, local or private funds).
These events – which might take place in the pilot cities or not – will be used as a natural platform for long-term encountering, exchange and cooperation.
Participants are coached ex-ante and ongoing by experienced thematic (cluster) managers from China and Europe through the elaboration of fact-sheets, webinars and on-site mapping actions. They help cities to define feasible and tangible results with a structured pipeline of activities under the triple-helix cooperation methodology.
Cities may either jointly work on projects (for example replicating the same urban test-bed – e.g. an interactive square in three cities) or separately (for example one annual conference to be organised in one city) under the same thematic priority.
Part 1 of the clusters session included speeches by the project team as well as by representatives from Barcelona, Shantou, Reggio Emilia and Weinan. Pablo Gándara and Shi Xin (both IUC) introduced the IUC work programme for 2019 as well as the expected outcomes and support by the project team.
Dealing with the smart city cluster, David Martínez (Project Director at the Barcelona Institute of Technology for the Habitat) introduced the 22@Barcelona Innovation District and the key measures addressing social, economic and sustainability challenges with citizens in the center. Chen Bin, Deputy Director of Overseas Chinese Economic and Cultural Experimental Zone of Shantou, introduced the construction progress of the Smart City Shantou, focusing on 5G, and invited European pairs to seek for cooperation in the construction works.

The circular economy and energy transition cluster was represented by Sabrina Rosati from E35 Foundation Reggio Emilia and Zhang Yinhu, Director of Energy Bureau of Weinan. Ms Rosati explained the possible cooperation cooperation projects dealing with circular economy and sustainable production and showcased best practices lie a Purified Water Park and the cultivation of various types of vegetables among mulberry trees to sell directly to citizens. Mr Zhang explained the agricultural production base of Weinan and presented possible cooperation projects in renewable energy and the food industry.

Part 2 of the clusters session included presentations from Granada, Haikou, Stuttgart Region, Zhengzhou, Guangzhou and Rome.
The clusters of biotechnology and Health Care were introduced by representatives from Granada and Haikou. Francisco Benítez, Project Manager at the Health Cluster Granada (PTS), introduced to the audiences the PTS, which provides research groups from the public and private sectors growing research support infrastructures. He proposed to collaborate with Chinese cities (especially Haikou and Kuming) in validating the talent generated in the healthcare, business and society. He also proposed to transfer the management model of PTS to the BioTech & BioMedicine in China. Mr Huang Kemin, Consulting Director of DRC Haikou, explained the development of the health care industry and the pharmaceutical industry in Haikou. Pilot projects with European cities include the research cooperation with international advanced medical institutions and the attraction of international medical talents to pursue a career in Haikou.

The cluster of urban mobility and connectivity was introduced by Thomas Kiewitt, Planning Director at Stuttgart Region, and Jiang Zhou, Deputy Investigator of Guangzhou Development District (GDD). Mr Kiewitt explained the support of efficient structures and transit-oriented development aiming at achieving higher density in places with access  to metro / railway. He also explained the main Stuttgart 21 project that combines railway and urban development along a trans-European axis. He explained a possible cooperation project with China on sustainable mobility. Mr Jiang explained GDD's focus on promoting industrial cooperation between China and Europe and showcased several examples of successful cooperation.

The cluster of culture, education and tourism was represented by Gianluca Fabbri, Cluster Manager at Link Campus University in Rome and Sun Xiaohong, Deputy Mayor of Zhengzhou. Mr Fabbri introduced the Open City IoT Smart Lab of Rome and aimed at building strategic alliances with highly innovative companies and universities for the implementation of joint research activities. He proposed a roadmap for academic and business activities, including summer schools, joint degree and research programmes. Mayor SUN introduced the main features of Zhengzhou and the results of cooperation with Europe within the IUC project. She made concrete proposals to deepen scientific and technological cooperation with European innovation centers, research institutes, universities and small and medium-sized enterprises.

The high level seminar concluded with recommendations by DG REGIO's Principal Advisor Nicola De Michelis and Guo Lanfeng, Director General for Regional Department at NDRC. Mr De Michelis emphasised the importance of achieving a balanced territorial and urban development as well as the need for project support in order to achieve concrete results in the city exchanges. This contributes to strengthening the EU-China Regional Policy Dialogue, he said. Mr Guo recommended to have more exchanges to learn from each other and to include business and academia in the design and implementation of pilot projects.

Documentation
Introductory Session
Panel 1:  Regional Innovation – Strategies from the EU and China
05 URBAN EU China – Andrea Ricci
Panel 2:  Supporting Innovation through Thematic Clustering
Participants lists
20190408 Full name list of EU cities delegates for HLF on 9th April
20190402 Full name list of Chinese official delegates for HLF on 9th April
Cluster Meeting on Circular Economy and Energy Transition
In the afternoon, over 40 Chinese and EU cities exchanged experiences, solutions and opportunities related to their projects on circular economy and energy transition. The opening session was moderated by Alexandra Lehmann from the EU Delegation to China. Eva Malanikova from DG REGIO explained the EU Urban agenda Partnership, which is led by EU cities and regions and summarized the 12 activities in place that aim at better regulation, better funding and better knowledge. Mr Bartosz Cieleszynski from DG Environment presented the Circular Economy Package and summarized the main global trends on resource use, food demand, water scarcity and climate change that forced the EU to prepare the package.

A key note was given by a representative from the Ellen MacArthur foundation, focusing on the role of urban policymakers and presenting specific case studies for textile, plastics, and food that can be an inspiration and lessons learned for IUC cities.

Two panels sessions followed on policies and practices of cities to promote circular economy, where the region of Hainan, the city of Rome and the district of Liudong presented their experiences and expectations. Hainan is introducing a ban on single-use plastics, while Rome is embarked in an ambitious urban agriculture project and Liuzhou is focusing on improving its environmental standards.

In the last panel session on cluster cooperation, the cluster manager explained the expected results of the IUC programme, which aimed at developing a thematic action plan that will have sustainability as one of the core elements. Representatives from Weinan, Bologna, Manchester and Guanhzhou, debated on their respective experiences on circular economy. Mr Mark Atherton from Greater Manchester Combined Authority also introduced the city's low-carbon development strategy.

In the Q&A session, questions like the recycling of agriculture wastes, the use of hydroponics in cities, food packaging, and the availability of training materials in Chinese were raised.


The meeting was closed by the Deputy Mayor of Liuzhou, Hou Gang.


Next steps
Week 29.4 – 03.05.2019        WebEx Call with Cluster Participants from EU and China
April – May 2019                      Elaboration of potential pilot project fact-sheets, including stakeholders analysis, funding sources, etc.
10 – 14 June 2019                     Possible mission to China
Documentation