Representatives from the EU IUC cities of Rome, Bologna, Emilia-Romana and Stuttgart Region have participated at the 2nd "Nanjing Tech Week / European Chamber High-Level Innovation Conference".
The event – that was opened by Ambassador Nicolas Chapuis from the EU Delegation to China – gathered more than 300 representatives from business, research, and local governments. Ambassador Chapuis reminded attendants of the historical role of China in promoting innovation and of the importance for cities leaders to take ownership of technological developments. He underlined the need to develop an open ecosystem for innovation with business stakeholders thinking out of the box. Ambassador Chapuis provided some figures on Jiangsu research cooperation with Europe, having 19 research institutes involved in 16 EU projects.
Bernhard Weber, Chairman of European Chamber Nanjing Board, explained some of the advantages of the Nanjing innovation support system and mentioned that several EU businesses have built R&D centres in the city.
The event consisted of two panels: panel 1 dealt with the transformation of cities through technological innovation and panel 2 dealt with the innovation ecosystem. Panel 1 included representatives from Stuttgart Region (Dr. Nicole Schilling), Bologna (Marino Cavallo) and the IUC Asia project (Pablo Gándara). On the second day, start-ups and associations from Stuttgart Region, Bologna, Rome and Emilia Reggio showcased their technology solutions to at the Nanjing TechWeek Expo. They were visited by Chinese business, research and local governments' representatives, including the Mayor of Nanjing, Mr Lan Shaomin. The second day included also sub-forum on innovation in which the IUC cluster manager for innovation and start-ups, Dr. Gianluca Fabbri, introduced the start-ups / companies involved in the TechWeek.
Several MoUs were signed:
Smart City Cluster of Rome and the Nanjing Jianye District Information Buro.
The Bologna Cluster CREATE and the Nanjing Jianye S&T Buro
Two MoUs between Stuttgart Start-Ups (Naise GmH, Qwair), Gongcheng Research Institute and the Nanjing High Tech Island
Participation at the EU Nanjing TechWeek 2019 was made possible by Nanjing-Stuttgart Messe and the European Chamber of Commerce in China – Nanjing Chapter. Our most sincere thanks to them!
Programme: EUCCC Conference agenda- 20190621
Press coverage:
Impressions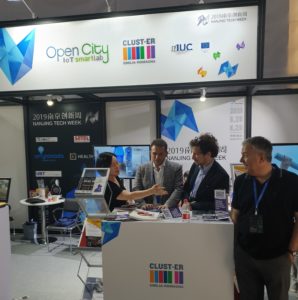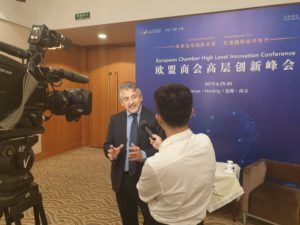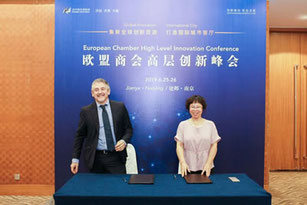 Presentations:
1_Stuttgart_Transformation through Technological Innovation
2_EUD_Role of IP in a innovation ecosystem
3_Bologna_Smart sustainable cities connecting nature, connecting people
4_VDMA_OPC UA for Industrie 4.0 in the mechanical engineering industry-Christian Mosch
5_Siemens in China Leading by Innovation